The heart of eJeeva's product suite is our fully integrated Product Information Management (PIM) solution – eJeeva Central. The PIM allows manufacturers, distributors and retailers to store, manage and publish product data from a central repository.To remain competitive in today's global marketplace, companies must have a consistent and accurate view of product data – skews, brochures, catalogs, and other materials – across their enterprise. The goal is to be able to manage and support many products and services within multiple channels, including sales, marketing and customer support.
eJeeva Central will help you develop and maintain your product information delivered to your desktop when and where you need it. We will help you create a central repository for your product information with the ability to publish that data through multiple channels.
Clients will be able to search your product base more easily, analyze the key metrics for your products, eliminate duplication of information or even new products, and assist in the automation of your sales force and customer relations management.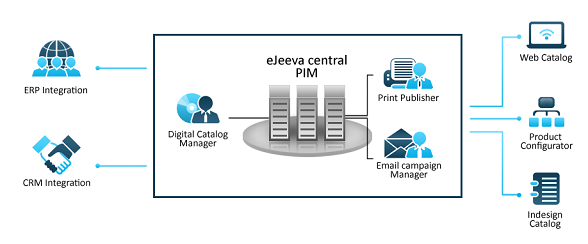 Easy Catalog Creating with InDesign Plugin
eJeeva Central offers an easy-to-use plugin to Adobe InDesign. The plugin captures product information stored in the PIM allowing manufacturers and distributors to create custom catalogs, brochures, price lists, technical documents, user manuals and more. The tool's drag and drop functionality lets any employee create catalogs with your organization's specific branding elements