Data Conversion … saving you time, effort, and money
As an IT manager or a sales and marketing manager, you know that one of the greatest challenges today is collating and managing massive amounts of information that your company collects from any number of sources.
You have little control over the input of this information or data no matter how hard you try to get that information in standard formats. Information may come to you as a comma serparted file, an Excel file, a pdf, or even a dBase file. Your vendors and other business partnets will supply you with what they have — not what you would like to have.
But, you have to supply that information into formats that your business and consumer customers want and need to make decisions to buy. You don't have the luxury of merely regurgitating what you get in.
This is where eJeeva can help.
eJeeva delivers
eJeeva translates the data formats that you get into the data formats that your customers demand. We convert that data for you to make your sales, marketing and distribution processes work.
With eJeeva's data conversion we will:
Convert data from one structure to one you can use in your system
Take the challenge of complex data processing and conversion off your back
Maintain as much date and embedded information as possible
Mitigate any loss of data or information
Compensate for any losses of data from "in-exactitude"
Apply reverse engineering if necessary to ensure inter-operability between two data systems
Data Optimization
Product information can come into a company in a lot of different formats. Different suppliers will also supply different databases of information with products described in a different ways from the next supplier. Sometimes companies acquire another firm's product list.
Companies also develop any number of product descriptions internally. Product development may use one description, inventory control another, and sales and marketing a third or fourth. Mush of this is often developed manually and information is duplicated over and over again in several different ways.
How useful would it be to you and your company if everything about your product database was consistent in a single location for use by any and every department in your firm?
That's where we come in
We take a lot of data and apply consistent standards to it for a number of attributes so that multiple channels and internal departments can take that information, understand it, and use it effectively. Your data is "optimized" in a way that sets standards, decreases mistakes and misunderstandings, and improves the information you provide to your buyers and distributors. For example, "black" will never be misinterpreted as "bulk".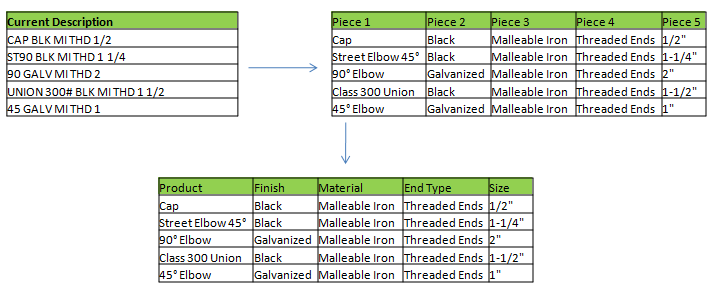 What this means for you
What this means for you is that no matter which channel you supply, someone searching for an item that you sell will be able to find it the same way each time in each different channel no matter if the information is delivered in a print catalog, online product list or other manner. We help others find your data (and products) no matter how you deliver that data to your buyers and distributors. They can feel confident that they can find what they want out of your list of products and get exactly what they found when they decide to buy.
This means more sales, better profits and satisfied customers.
Contact eJeeva today for a free analysis of your data challenges and we will demonstrate just what we can do for you.